With the help of a payrolling service.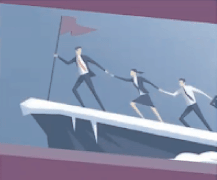 You're hungry for market dominance – but bogged down by HR and payrolling paperwork. Leaving you no time to focus on the big picture.

Throw your business a time and money lifeline by partnering with an Employer of Record and Payrolling service for your contingent workforce. Get rescued from the endless piles of paperwork – and save valuable hours in your busy workday.
Our complimentary whitepaper shows you how a payrolling service helps you:
Increase productivity and profits with a streamlined, state-of-the-art payroll process managed by HR experts.
Reduce risk by ensuring complete compliance with IRS regulations.
Gain a competitive advantage by freeing up your time. So you can focus again on what you do best – growing your business.